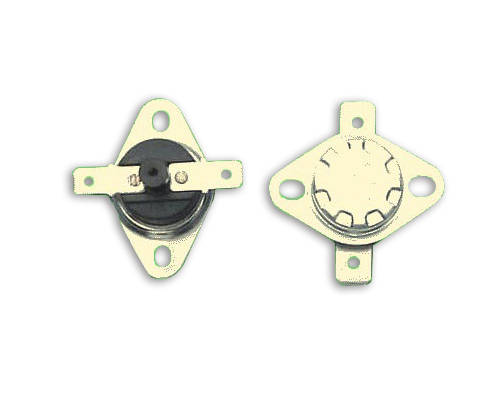 Purpose:
For air conditioners, drinking fountains, electric thermos, water heater, shower, sterilizer, non-coffee maker, electric steamer and other appliances temperature control (switch) known to use, the same also applies to its her household appliances, electronic equipment, electronic control cabinet overheating protection (temperature limiter).
Working principle and characteristics:
Use of bimetal as temperature sensing element, when the temperature rose to operating temperature, the bimetal jumps, drive rapid action contacts; when the temperature dropped to a certain value, the contact is not reset To reconnect requires the use of role reset handle the security forces, the thermostat contacts restored to its original state, to achieve on-off switch circuit and artificial restart purposes. With stable performance, high precision temperature control, action altogether and the small size, light weight, high reliability, long life, and other characteristics of radio interference.
Tips:
1. This manual reset thermostat sudden jump in temperature after the temperature dropped to zero after 2 ℃ before resetting handle security, and is forced to 6 Newton appropriate, not too large.
2. in order to ensure the thermostat to work, set aside to cover the end face of the reset handle temperature-sensitive surface perpendicular distance of not less than 2 zero is mm.
Technical Parameters:
1, the electrical parameters: 1 Zero A zero except 2 I V (resistive load);
2, operating temperature range: I - 1 I Zero ℃ (optional), manual reset: Disconnect Temperature accuracy: ± (. 2 I ~ I%) ℃
3. Wiring: plug terminal 2 I zero # (bend zero zero to 9 %% optional); plug terminals 187 # (bend optional %% zero zero to 9, the thickness of zero to me, zero .8mm optional. ʱ??
Yes, life: 1 Zero A zero V 6 divided by 2 me period of 2000;
I, the electrical strength: AC1 I 2003 V lasted 1min, no flash off, no breakdown;
6, the contact resistance: ≤ I zero mΩ;
7, Insulation resistance:> 1 2003 MΩ;
8, in the form: Normally closed: temperature rise, contacts open, manual reset; normally open type: temperature rise, contact connected, manual reset;
9, shell protection grade: IP 2003;
1 zero, grounding: connected through the thermostat metal shell and the device ground metal parts.
11. Installation: 1 is automatically reset to zero and KSD3 same dollar series.
Dimensions