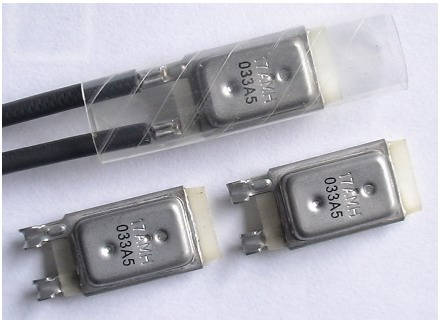 17AM thermal protection thermostat temperature control switch
I. Introduction (17AM)
● 17AM series thermal protector is Texas Instruments Klixon ® proprietary technology to produce, is a way to precisely control the temperature of electrical components overheating protection. Current through Klixon ® double metal reed. When appliances are not working properly, so that the ambient temperature is too high, the protector of the bimetallic spring break contact, make electrical protection. When the thermal protection to cool to a safe temperature, the contacts automatically closed reduction.
● 17AM series thermal overload protection device also has a current role: When a short circuit or motor stall, due to the rapid increase in the current thermal effect on Klixon ® bimetal thermal protection contact point quickly disconnected.
● 17AM series thermal protector is an overheated, over-current protection device of its small size, contact capacity, escape moves fast, reliable performance
2, Feature Description (17AM)
● Klixon ® is a global manufacturer of sensors and controls most complete varieties, the largest output in the world's leading brand, product quality has credit protection.
● 17AM series thermal protector compact design, the product easy to install. For motors, pumps, transformers, lighting, equipment ... electric appliances and similar over-temperature, thermal direct or indirect protection.
● each trip temperature are strictly calibrated and checked, Klixon ® bimetal fast escape with a 100%;
● large number of temperature specifications, 60 ℃ ~ 160 ℃ ± 5 ℃ (one specification per 5 ℃)
● Contact capacity: 9A / 250 V - AC, 22A / 115 V - AC ....
● have a dual capability to sense temperature and current action of;
● Padded stainless steel outer case, for the vast majority of Chak dip process;
● according to customer demand for a variety of riveting wire length;
● temperature reactivity lifetime high repeatability;
● through national safety certification: UL, CSA, VDE, ENEC (European Union), KEMA, CQC ... certificates, and in line with the EU ROHS environmental protection requirements.
3, the technical parameters (17AM)
Electrical specifications *: 22 A / 115 V --- AC
Electrical specifications **: 9 A / 250 V --- AC
Electrical specifications ***: 20 A / 16 V --- DC
Temperature range of options: 65 ℃ ~ 160 ℃ ± 5 ℃ (one specification per 5 ℃);
Automatic Action: 10,000 (10,000 automatic reset)
Overall structure: steel seal, with a special thermal insulating sheath
Dimensions (length × width × thickness):. 23 × 10 × 4 6 mm
4, the application: (17AM) to prevent overheating of the following applications
● all kinds of motors, motors,
● Pump
● Compressor
● washing machine
● Electronic Ballast, HID Ballast
● transformer;
● Lighting
● heating pad, car blanket; medical heat pad,
● plastic machine;
● power tools, battery charger
● instruments and equipment;
● household appliances; heating appliances
5, product certification (17AM)
Safety Certification:

● UL、CUL、VDE、CSA、CE …Certificate
● ENEC(欧共体)、CQC…Certificate
Environmental standards: compliance with EU environmental directives ROHS requirements, SGS report.
| | | |
| --- | --- | --- |
| 17AM Dimension | | 17AM product characteristic curve |
17AM table number and the operating temperature (operating temperature tolerance of ± 5 ℃)
| | |
| --- | --- |
| 编号 | 跳脱温度 |
| 17AM 020 | 65℃ |
| 17AM 021 | 70℃ |
| 17AM 022 | 75℃ |
| 17AM 023 | 80℃ |
| 17AM 024 | 85℃ |
| 17AM 025 | 90℃ |
| 17AM 026 | 95℃ |
| 17AM 027 | 100℃ |
| 17AM 028 | 105℃ |
| 17AM 029 | 110℃ |
| 17AM 030 | 115℃ |
| 17AM 031 | 120℃ |
| 17AM 032 | 125℃ |
| 17AM 033 | 130℃ |
| 17AM 034 | 135℃ |
| 17AM 035 | 140℃ |
| 17AM 036 | 145℃ |
| 17AM 037 | 150℃ |
| 17AM 038 | 155℃ |
| 17AM 039 | 160℃ |